Bondage Rope
Just like any type of work requires proper tools to get the job done, so do you need adequate bondage rope if you want to get down and dirty. Getting rope is undoubtedly not the only thing you need to do if you're going to have kinky bondage fun, but it is the first step and one of the most important ones. Don't make the mistake of getting just about any rope you run into. You don't want to mess things up before you even start.
Depending on your needs, tastes, and preferences, the choice can vary significantly. Since the budget is usually one of the considerations, try to steer clear of all the sex shops. They will probably give you something of an average quality yet overpriced. Look into the differences between natural and synthetic ropes. Check out the benefits and drawbacks of various materials.
Figuring out what you'll be doing the most and making a choice is half the prep done. After that, check if the rope needs conditioning. You don't want the material to be too rough and coarse to the point where it can hurt the other party and make everyone's life more difficult. Finally, go and have some naughty fun!
Kinbaku
Kinbaku comes from Japan, originating way back in the feudal Edo era. Its beginnings weren't exactly sexual, but that changed in the 20th century when people realized just how hot and kinky tying someone up for BDSM play can be. Fast-forward to the present day, and there are actual Japanese masters in the art of kinbaku, also known as "shibari."
A literal translation of the word kinbaku means tight binding. While some consider it art and others do it for pure and immense sexual pleasure, its aesthetics are undeniable. Nothing comes close to the look of a stunning female body tied up with nothing but the juiciest bits on full display, constrained and ready to be used.
There is so much to the art of kinbaku that you have everything from books to trainers who can show you ropes, pun intended. This is not the most straightforward sexual endeavor to get into. But, as a result, it's one of the most satisfying experiences. What began as an underground fetish bondage culture eventually went mainstream. Nowadays, you can find everything you need online, in magazines, on social media, and more.
Rope Bondage Porn
Bondage porn is so massive and widespread that I don't even know how to begin talking about it. If you're imaginative enough, you'll do much more with rope than simply restrict someone's movement. Usually, in connection with BDSM play, ropes can be used to suspend someone in the air or to contort their body into some rather provocative positions.
With heavy power-play connotations, bondage porn is an immense turn-on for those into domination and submission. Once restrained, a girl (or a guy) is at the complete mercy of her captor. As a result, the variety you can have with rope bondage porn is immense. Everything you love in "regular" porn happens in rope bondage XXX action as well, but there's so much more only possible because of the ropes.
For example, things like blowjob, doggy style, anal, double penetration, gangbangs, facials, and more are only sexier when the chick is tied up. However, where, in "ordinary" hardcore scenes, a hottie can push you away to take a break, when she's tied to a chair or spread on an X-cross, there's no such thing. Plus, it's only through bondage that you can suspend her in the air and go to town on those holes.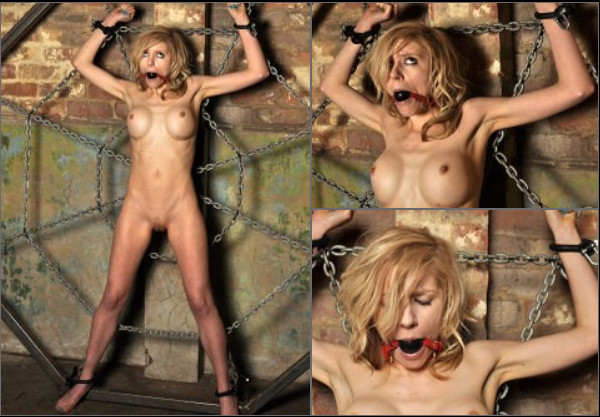 Rope Bondage Ties
Rope bondage ties are one of those things that make this whole kink incredibly exciting. You can start dabbling with the simple stuff as an absolute newbie or create erotic works of art with sexy bodies if you're a pro. Any part of the body is susceptible to restraint. Start with the arms and then work your way to the more complex stuff.
Rope bondage can begin and end with the sub's arms tied behind their back. It's more than enough for many people. Others, however, like to push the limits. They don't stop until the whole body is fully harnessed, tied up head-to-toe as tight as possible, and suspended to hang off the ceiling. Constrained and on display like a sex doll, it's only then that the real BDSM fun begins.